The Complete Guide to Banana Plugs

The Complete Guide to Banana Plugs
A banana connector, commonly known as a banana plug for the male, banana socket or banana jack for the female is a single-wire electrical connector used for joining wires to test equipment or circuits. This short article allows you to discover different types of banana plugs and understand what banana plug suits your electrical application.
1 - General Information on Banana Plugs
2 - Styles and Features of Banana Plugs
4 - Stackable or Stacking Banana Plugs
1 - General Information on Banana Plugs
Most banana plugs are commonly found with either a 4mm or 2mm plug to be able to plug into a 4mm or 2mm sized banana socket or jack. You can view our quick guide to banana sockets here. They can also be found in 1mm variants and often known as 'pin plugs' when of this size.
Banana plugs can be found in a range of colours, the most common being black and red, and it is normal for them to conform to the standard colour codes; 0 - Black, 1 - Brown, 2 - Red, 3 - Orange, 4 - Yellow, 5 - Green, 6 - Blue, 7 - Violet, 8 - Grey, 9 - White.
2 - Styles and Features of Banana Plugs
Unshrouded Banana Plugs
Unshrouded banana plugs are also called unsheathed banana plugs. They feature a bare pin that is uninsulated and visible. The unshrouded banana plug is commonly used in lower voltage (30 - 70 VDC) electrical testing applications.
Retractable Sleeve Banana Plugs
A retractable sleeve banana plug has a spring-loaded shroud cover that slides out of the way when the pin is inserted into a shrouded or unshrouded jack or socket. The retractable shroud improves safety and is typically used in higher voltage applications.
Shrouded Banana Plugs
Shrouded banana plugs are also called sheathed banana plugs. They feature insulation around both the male and female connectors to avoid accidental contact in high voltage situations. These will be required to be used in CAT II & IV (600-1000V) applications. The shrouded plug will fit into shrouded and unshrouded jacks but not binding posts. Remain safe when electrical testing high voltages with shrouded banana plugs.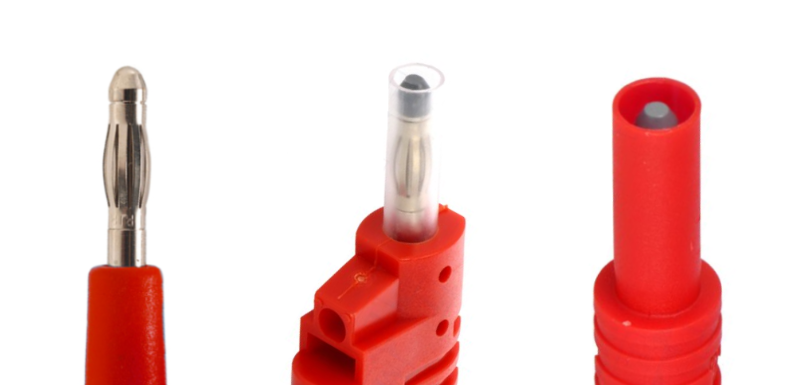 Unshrouded Retractable Sleeve Shrouded

3 - Straight Banana Plugs
A banana plug is a cylindrical pin that has sprung metal "leaves" that bulge outward. The springs produce a secure and strong contact in a socket. The back of the pin is connected to a wire which is screwed, soldered, or crimped into place. Insulating plastic over part of the connector can vary on each plug depending on its voltage rating.
When would you use a straight Banana Plug?
Patch cords used for electronic test equipment, speaker wires and probe leads are typically terminated by straight banana plugs. Unsheathed/Unshrouded banana plugs are designed for low voltage applications.
1069-Pro DIY 4mm Straight Banana Plug 1010-C DIY 4mm Straight Banana Plug 1065 DIY 4mm Straight Shrouded Banana Plug

4 - Stackable or Stacking Banana Plugs
A stackable banana plug has a hole in the back, on the side, or both to accept the pin of another banana plug of the same diameter (2mm or 4mm).
When would you use a Stackable Banana Plug?
They're commonly found on test/ patch leads and offer reliability and versatility when you may wish to join a number of leads together or wish to make shunts or connections to multiple places. You can stack numerous banana plugs on top of one another to create complex wiring kits or circuits for electrical testing depending on application.
1086 Stacking Retractable 4mm Banana Plug 1080 DIY Stacking 4mm Banana Plug 4897 Stacking 4mm Banana Plug
5 - Mini Banana Plugs
Mini Banana plugs typically have a 2mm diameter pin, although occasionally 3mm mini banana plugs are available. They are far smaller than the regular 4mm banana plug and are often used to connect low power circuits, speaker cables and create bespoke test leads.
9213 2mm Miniature Banana Plug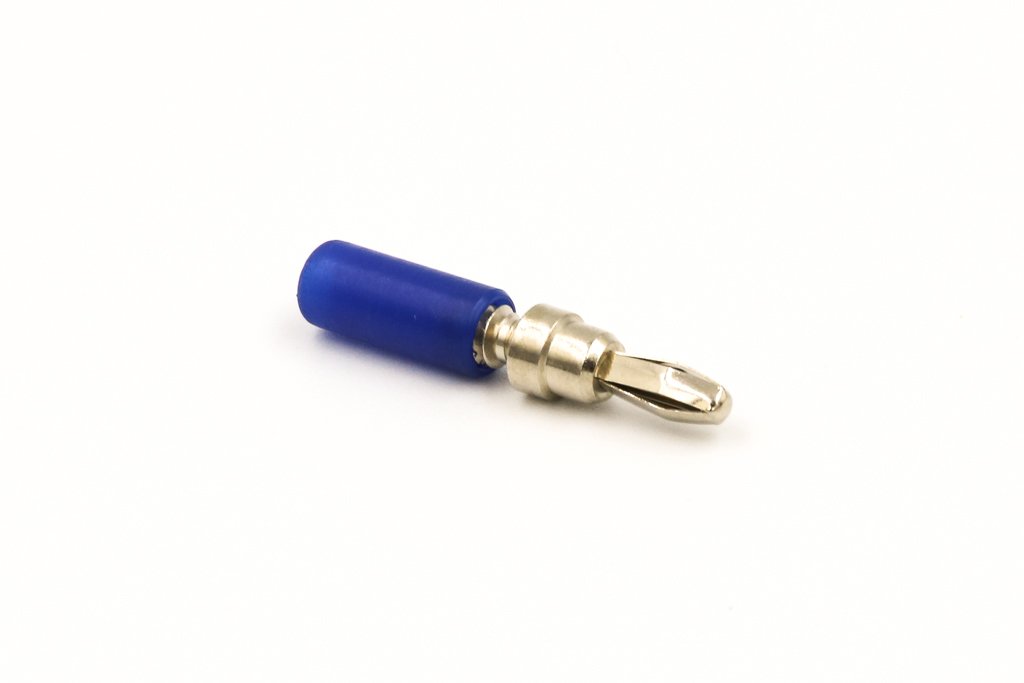 6 - Dual Banana Plugs
Dual plugs are simply two plugs together. They are designed for use with amplifiers or speakers that use traditional binding posts. Dual plugs and posts make it safer to plug in two wires with no chance of stray wire strands creating a short across contacts. They can also come in a variant where the two plugs are internally shorted making the two plugs have one output connection.
MDP 4 mm Double Stacking Banana Plug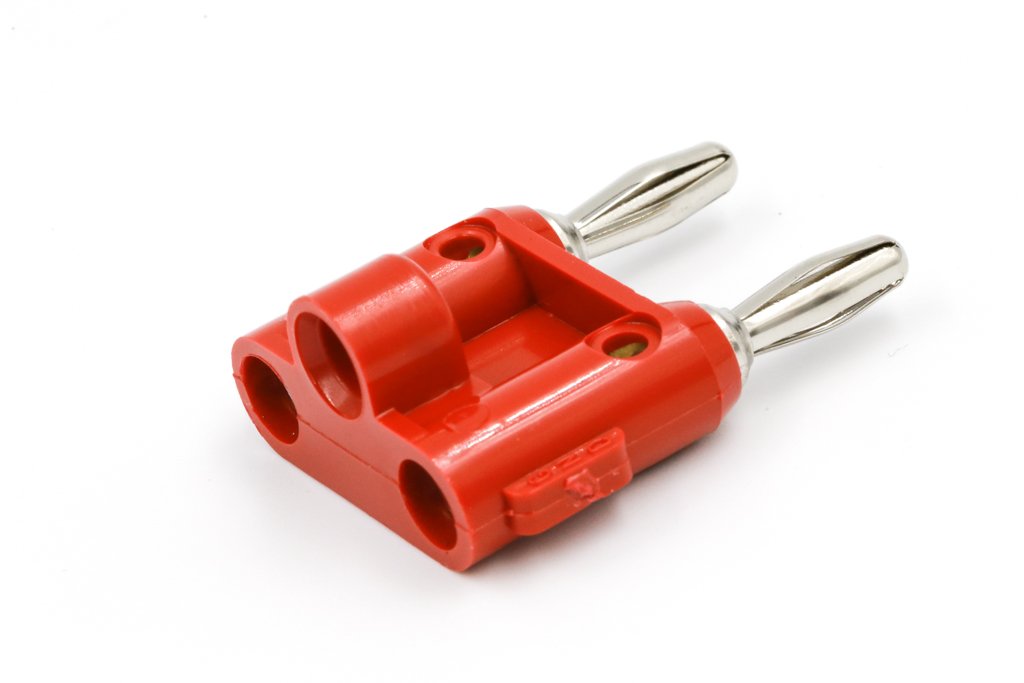 7 - Conclusion: Banana Plugs
Banana plugs are a common and important component in many electrical applications. Joining wires to equipment correctly is invaluable for safety and performance. Be sure to choose the correct; type, pin style, colour and size for your electrical application. If you are still unsure after reading our guide please get in contact and we'll be happy to advise you.
Discover Related Newsletters
Click any of the images below and discover specific information based on the following topics;